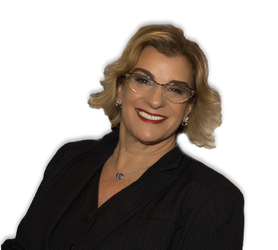 Maria Ingardia-Brody Individual & Family Crisis Management Coach
My book, Breaking Free From Mobster to Mentor, explains how deeply I believe in the mentoring and coaching process, how it helped me climb from the depths of despair to living the life I always dreamed of and my motto is "if she could do it, so can I!".

They call me a 'solutionizer™' because I am relentless at finding solutions to life's challenges. I specialize in helping individuals and families through the pain of crisis. Crisis is different for every person and treated accordingly. If you are in pain of any kind, feel stuck wishing to find a new way to live and find a sense of purpose, then I can definitely help you. But only if you're ready.
Education:
​Certified Life Coach & Mentor
​AA in Allied Health Science from The Swedish Institute
​Licensed Massage Therapist
​Certified Reiki & Energy Healer
​Self-taught IT specialist
I am an advocate for helping you to create an environment of your choosing, regardless of the one you're in.
Because I have experienced growing up with domestic violence, experienced drug & alcohol abuse, was institutionalized, experienced suicidal thoughts and actions, went through the process of multiple financial devastations, and overcame all of it, I am passionate about helping people get unstuck. Especially the ones who are ready and willing to change. I know that living in these types of circumstances can be overcome because I have been there. I have walked in your shoes.
I have worked with people in family crises dealing with challenges with teens and children to those who are going through life's transitions such as career changes, divorce, or have an elderly parent who is passing and needs help with the planning process. I am also passionate about helping people learn to live again after the death of a partner.
Awards, Titles, and Designations:
​Members of emotional support group - Emotions Anonymous
​Voted Top Business 2019
​Voted Top Women in Business 2015
10+ year member of BNI Networking Organization
Other Info:
​Survivor of domestic violence
​Survivor of drug & alcohol addiction
​Was institutionalized after suffering from a mental breakdown
Quit smoking after 25 years
Quit carbs and lost & kept 65+ lbs off for over a decade
Volunteer at Assisted Living Facilities and help coach families and terminally ill through the end of life process
Helped survivors of superstorm Sandy by providing food and shelter for them
When you want a joyful, abundant lifestyle, don't mess around with anyone but the best at helping people who are ready to make a bold change in their life.
I have everything you need to help you find a new way to live, a sense of belonging, and an actual sense of purpose! You just need to reach out.
Maria Ingardia-Brody
Founder of Transformational Gangstas, LLC
I love helping people who are ready to make a bold change in their life, cut off from old hurts and pains, and move forward with a plan for success. I have that plan and I'm happy to share all the tools to help you reach your personal goals.